Babies and Books 25th Anniversary
Babies and Books was the first program of its kind in the North Shore, focusing on literacy-based learning through books, stories, songs, nursery rhymes, games, finger plays, lullabies and puppetry.
January 2012 marks the 25th anniversary of these landmark classes, and we want to commemorate this exciting achievement with events throughout the year, including the 25th Birthday Party. If you have joined us in the past, present, plan to join us in the future or just want to have some fun, we invite you to share this exciting year with us.
You're never too old for Babies and Books. Please spread the news - everyone welcome!
Your friends,
Baby Bear, Mr. Bear and Sharon
25th Birthday Party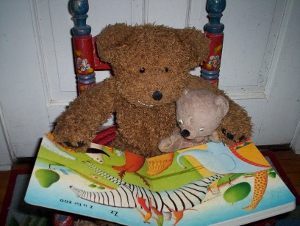 January 2012 marked the 25th Anniversary of the Babies and Books classes, and we began celebrating this exciting achievement with a 25th Birthday Party for Babies and Books. Thank you so much to all of our friends who helped to make this event so special!
We celebrated by making party hats, watching a video of the first ever Babies and Books program in 1987, and by reading, rhyming and rocking with Sharon, Baby Bear and Mr. Bear. We finished the party with some delicious cupcakes, and got the chance to catch up with many of our friends who have supported us over the years.
The 25th Birthday Party was the first event in a year-long celebration - more events to be announced soon!