News
Sign Up Now for Classes
Mondays: TBA
Tuesdays: TBA
Wednesdays: Babies and Books, 10AM, infants - 2 years.
Ongoing classes on Wednesdays, GAR Memorial Library, 490 Main St., W. Newbury.
Open to all; space limited. To register call 978-363-1105 or email katgove@mvlc.org.
Thursdays: TBA
Fridays: Backpack Babies, 9:30-10:45, infants - 23 months.
Classes begin in May at the Mass Audubon Ipswich River Wildlife Sanctuary, Topsfield. (Fall classes begin in September).
Limited to 9 adult/child pairs. For more information or to register call 978-887-9264.
Backpack Babies is Featured in the Mass Audubon Newsletter
In autumn 2012, Mass Audubon included a story on the Backpack Babies program in its newsletter, Connections. The article discusses the value of the program, stating that through discovering nature, mothers also discover new ways of bonding with their babies.
The Babies and Books 25th Birthday Party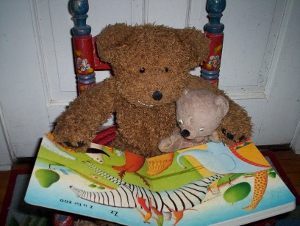 January 2012 marked the 25th Anniversary of the Babies and Books classes, and we began celebrating this exciting achievement with a 25th Birthday Party for Babies Books. Thank you so much to all of our friends who helped to make this event so special!
We celebrated by making party hats, watching a video of the first ever Babies Books program in 1987, and by reading, rhyming and rocking with Sharon, Baby Bear and Mr. Bear. We finished the party with some delicious cupcakes, and got the chance to catch up with many of our friends who have supported us over the years.
The 25th Birthday Party was the first event in a year-long 25th Anniversary celebration - more events to be announced soon!